Do you worry that this Christmas, your family will give you a membership to the Summer Sausage of the Month Club? (yes, that actually exists). Have no fear. If you happen to be a history buff, I have compiled a list of the five best Christmas gifts that you can pass on to your friends or family. If you are shopping for a history buff, then this list will make your life much easier. They will not be disappointed.
I have arranged these in the order from the cheapest to most expensive, depending on how extravagant you want to be.
1) History's Most Insane Rulers – Audible Audio Edition. OK, OK, I had to include one of my own products on this list, and I promise you that this will be the only one. I only included it because it is the best-selling product of mine currently available. The audio version is a 2-hour recording narrated by professional voice actor Kevin Pierce. Learn about the eccentric reigns of Emperor Caligula, Kim Jong-Il, and 8 other megalomaniacs while in your car or at the gym!
Retail: $6.95 (only $4.99 if you buy the book and the Audio Edition together)
2)  John Adams HBO miniseries on DVD. One of my favorite series of all time. The seven-part miniseries looks at the life of our first vice president, from the Boston Massacre through the American Revolution, up to his presidency and death on the same day as Thomas Jefferson on July 4, 1826. This 8-hour-long box set is one of those rare works of historical study that doesn't try to shoehorn in contemporary events into the past. Instead it lets history speak for itself. And what a fascinating history it is. Brilliantly acted and produced.
Retail: $16.96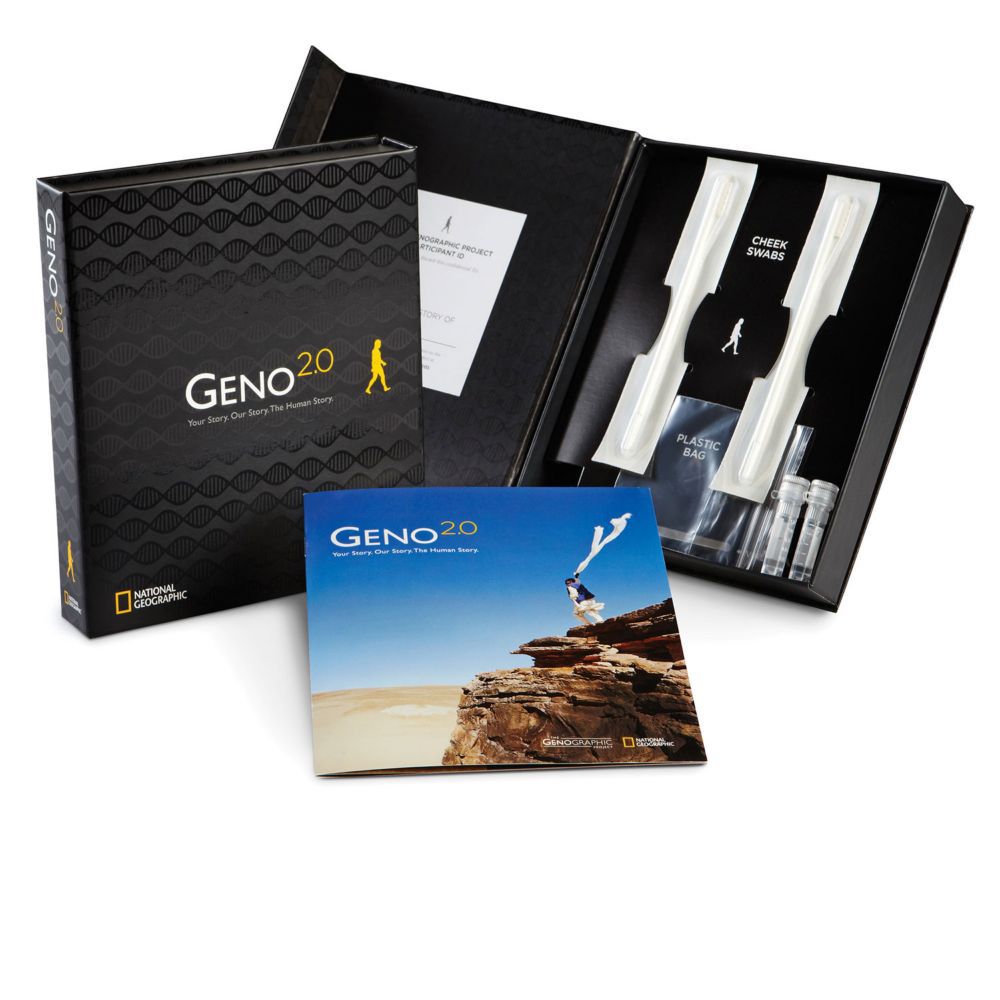 3) Geno 2.0 – Genographic Project Participation and DNA Ancestry Kit. Did your ancestors join the march with Alexander the Great? Are you a direct descendant of Charlemagne or William the Conqueror? While this DNA test unfortunately won't give you that level of precision, it will show you the migration patterns of your ancestors and your ethnic breakdown. It provides your ancestral information by accessing the database filed with the genetic information of the half million people that have participated in National Geographic's Genographic Project. You will also learn what percentage of your genome is affiliated with specific regions of the world. Warning: not recommended if you pride yourself on being a "pure-breed" of any particular race, as you are likely in for a nasty shock!
Retail: $159.95
4) "The Other Side of History: Daily Life in the Ancient World." This course – available courtesy of the Great Courses – consists of 48 full-length lectures and is the mother of all history lessons. Professor Robert Garland of Colgate University narrates daily life for a dazzling cast of characters, from a Greek soldier marching on the front row of a phalanx to a Celtic monk running away with the Book of Kells during a Viking invasion. Available in video or audio download, or by DVD or CD.
Retail: $249.95 (Audio Download)
5) Men's Skeepskin B-3 Bomber Jacket. You may not know it, but these jackets played a major role in helping the Allies win World War II. This was the military-issued cold-weather flight jacket in 1934, and it kept pilots warm in their long flights over Europe in unpressurized cabins at altitudes of 30,000 feet, where temps dropped as low as 60 below zero. Without them, many a dogfight could have been lost to Nazi pilots or an Allied bombing run failed. Made from Napa leather, resistant to the most extreme cold weather. Imagine you are dropping the 101st Airborne Division over enemy lines right before D-Day, but in the coolest of style.
Retail: $595.